beautiful beautiful
my second attempt at a vacation this year had a rough start - delays at one airport, begging to get on a plane at another, wiring being tested on a plane, the long wait for the
johnny park
van, encountering johnny parks white trash customers and its odelay dumbass employees, witnessing a car tumbling accident - but my kickass brosef ichford and son, pseudo brosef michael jm and i finally made it to cousin richs abode.
the johnny park pt cruiser

after doing the mccallister dash across atlantas airport and arriving at our destination over 4 hours late, you know what i had to do asap!

traveling (and the amazing california bud) got our tummies a rumblin' so after our oc sess, we headed to carls jr for western bacon cheeseburgers. seriously, this is my new all time fave fast food i can eat everyday and not mind the constant heart burn or love handles that come with burger. my dream burger: bacon cheeseburger with onion rings and bbq sauce. no lettuce, no tomato, no joke. just love. my love my love. my endless love. my only regret... not taking a pic. try to resist this burger paired up with a batch of "fun fries" (criss cut seasoned!). paris had the right idea. id totally whore myself out for a burger from carls jr. yummy western bacon che. yummy.
ichford takes in the "movie set" like beauty from cousin richs porch

after a mini wake 'n bake, we had to get down to business the real oc style. yeah man. next stop: laguna beach!
blazed in 'guna

drove out to 'guna and it was beautiful beautiful. having such beautiful scenery right outside your window, its hard to get depressed. really made me kinda crave a west coast life. then three barbies walked by me and i realized why im a new yorker. blonde hair plus my big asian face = youd have to pay me to look in the mirror frightening. jeepers. the rest of the day fit our motto for the trip: go with the flow. after our breathtaking 'guna stop, we drove through the wealthy streets of newport beach (no seth cohen sightings), stopped by a head shop to purchase a mini bong to enjoy the sweet cali cheeb out of, got some fun mexican food at el torito, took in some educational programming with the movie munich and ended the night with some games at dave and busters and dinner at in n out. grade a.

next day was cousin dans turn to play tour guide. cousin anthony had breakfast duty so he took us ichfords requested place: the fam tofu restaurant. having some korean food in our systems was good. balanced out the 80 tons of grease we ingested the past two days. after our healthy meal, dan took us to "the city" (i put that in quotes because everyone knows there is only one city and thats nyc) so i can put my
fred segal
gift certificate to use (thanks brian!). got myself a fun shirt for the trip (has a chicken on it and says "if it aint fried, i aint eatin it") and then got hungry. like we werent gonna smoke on the way to los angeles. our meal at
grand lux
was grand and luxurious and very very filling. walked around the
beverly center
and then headed out to the walk of fame to get some cheesy souvenirs and take cool pics.
storm trooper was about to take out michael jm.


mike dont care. look at his smirk. yeah man. he was blazed too.
the drive back to the oc left us tired but hungry, so we had some carls jr again (gotta get as much while you can) and then passed out.

the next day was our last in the oc so we spent it at knotts berry farm. rollercoasters. no barnyard animals. just full fledge rollercoasters. i actually bought a picture from one of rides but i dont have a scanner so you wont have the pleasure of seeing my frightened face. seriouly, when did i get so old? last meal in oc was korean bbq. yes, where the brosefs special mention quote was said. after the very filling dinner, it was time to leave orange county and head to hollywood.

the super 8 was now where we would reside for the rest of our trip. lets just say it was no ritz carlton but mike did get to have as many towels as he wanted we did get to see numerous cop cars drive by when we smoked out of the window. classy. rhymes with cassie.
roughin' it at super 8

this day was basically revolved around ichfords female friend (i like to call her the rancHo). drove an hour to rancho cucamonga (yes its a real place) to pick up the rancHo, drove an hour back to hollywood and got some grub at jack in the box. i got a massage at burke williams (thanks dee!) with dees friend amy while mike occupied himself with ichfords sidekick in the super 8 lobby and rancHo played f-in tease with my brosef. the night had a nice ending though when we all enjoyed a nice mexican meal and mariachi music at el compadre.

the next day was sadly our last. so the boys and i packed our bags and checked out of the super 8.
last reflections in the motel room

we decided to explore more than a 1 block radius and hit up amoeba music. i picked up some b 52s, the friday double disc soundtrack, and my current fave michelle branch. then we went a little further down sunset to mesa boogie and the guitar center. the brosefs were itching to play some music since they were without their guitars for almost a week.
which way do we go man?

i saved the best for last. for our last meal in california, we went to cousin richs sushi place, wasa. zagats rates its the best sushi in irvine. zagats aint no joke and neither is wasa. seriously, cousin rich hooked. us. up. damn. i never thought i could be grease up the doors because im gonna have to be rolled out full from sushi but this place did it.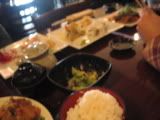 yummy in the tummy

after the sushi extravanganza, the boys and i stopped by the grove/farmers market for some last minute souvenir shopping. we reflected back on the fun times we had and dreamed of trips and possible moves in the future. who knows if ill ever become a west coaster. the nice weather is a great perk but the smog is a little eery. plus, i can sometimes feel like a fat ugly mofo in new york where, according to the boys, has the nastiest girls ever. it is possible i may have a bad suicidal downward spiral if i lived in the land of bleached hair and big boobs. that is of course, unless i go on a coke and diet coke diet and come to terms with a bottle of sun in.

our trip back home wasnt nearly as hectic as my way to california. no delays, no rewiring. no more johnny park rental car service. just some tylenol pm and oh yeah, a 3 hour layover in atlanta. note to self: dont take sleeping meds when you have to wake up after a less than 4 hour plane ride and walk across a terminal to wait for another flight in 3 hours.
special mention: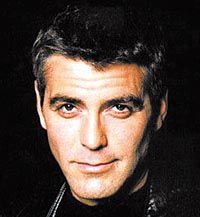 jamie after she enters her car that has just been robbed and ransacked
how did a raccoon get into my car?!