the dj has lost his thumbelina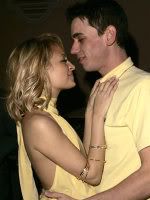 dj am and nicole richie are no longer the couple i was rooting for because they are no longer a couple. boo hoo.
perez hilton got the inside scoop
. just goes to show that if you wanna stay (skele)thin in hollywood, you either need gastric bypass surgery and/or just a ton of coke. then you can take your skinny ass and screw every guy you see. but is that the life every girl strives for? no, but is it the life every girl fantasizes about for at least a second? what, you havent?
special mention:
a throwback to a (cancelled) fave
valerie cherish: note to self - i dont need to see that.