weekend update - got.it.on.
another crazy weekend. halloween, my bday, daylight savings, a new saying (crap and a nap ala jamie). oh yeah man, events galore.
friday night was jamies halloween extravaganza at the
black sheep
. we all dressed like some kinda slutty something, got our drink on and then got our
like
on. its been a long time since we did a proper like bust out. it was due time.
sha (yankee), aim (referee), jamie (batgirl), gayliestar (fun bunny), jiller (geisha), me (skanky cat)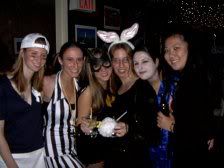 jiller, jo, gaylie, me
my makeup came out kickass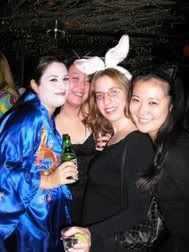 wheres my chicken fries?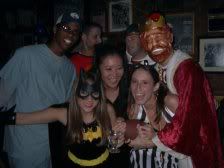 the like bust out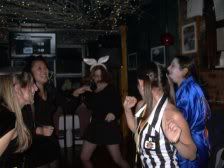 saturday was my
birthday
! got my smoke on, my cake (dunkin hines yellow with chocolate frosting, my fave!) on, got my
wings
on, got the
when harry met sally
and
first wives
on, didnt get the karaoke on, but all in all, had a fun bday.
sunday was daylight savings! i love daylight savings. well, only in the fall. gaining an extra hour of time. extra time is the best gift ever. so with the extra hour, i got my errands on, some more smoke on, some cheeb induced dinner making on, then got a headache and got my sleep on at 8pm. well if the time didnt change it wouldve been 9pm. so no
greys
but i did get some good sleep.
so today is officially halloween. if i were home, id open the door for the little ones and ignore the bell if its a bunch of costume-less shitheads collecting some candy before they wreak havoc on the neighbhorhood. gotta serve some justice one way or another. and besides, if we opened the door for everyone then how much candy would be left for us. not much. so did i come to work in costume today? nah. i did dress in all black so if someone asked me if i was in costume id just do the "trapped in a box" with my hands call myself a mime. im so creative sometimes.