tara reid - intellectual journalist
weeknights(and sundays too) are all about the 10pm time slot. let me break it down for ya:


thursday: being bobby brown - bravo


friday: degrassi - the-n (its on at 8pm too)


sunday: entourage - hbo


monday: laguna beach - mtv


tuesday: real world - mtv (i got sucked into it with last weeks mini marathon - thats the mtv way)


wednesday: ...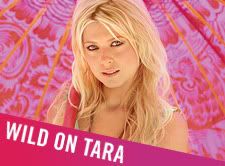 yeah bitches. wild on has a new host and a new title. youd think this is a perfect match. and it definitely is but what isnt is taras views of her new show. she wants be seen as a
serious journalist on a cultural program
. youre right, she nailed intellectual and cultural right in the head with this remark on one of her radio promos for the show: "i know how to say 'free beer' in 8 different lanaguages." if that doesnt scream genius, i dont know what does.
tonights episodes features two other intellectuals, paris and paris. we're gonna get wild with tara and the heir*-est couple of the world.
*lots of money - brain = an heir